Gabby Windey Rachel Recchia Bachelorette Spoilers News videos
After the Clayton season, ABC tries to redeem the brand appeal to the audience by presenting Gabby Windey Rachel Recchia. Enjoy the Bachelorette Spoilers News videos.
The newest media and information appear at the top of each post page.
Media releases including First Look 10 minutes
The CB Crew dive into the men of the season for us. Credit Bachelor Nation. See their YT Channel for other content.
From Bachelor Nation comes this latest interview discussing the bio of the leads men.
Meet The Men
After unwaveringly supporting each other through a devastating dual breakup in the season 26 finale of "The Bachelor," fan favorites and fierce women Gabby Windey and Rachel Recchia stand by each other's side yet again as they set out on a journey to find love. The two co-star on the upcoming season 19 of "The Bachelorette," with Jesse Palmer returning as host. Premieres MON JULY 11 on ABC. Stream on Hulu.
Gabby's Final Four:
Not 100% sure on Gabby's 4th hometown date but here's where I'm at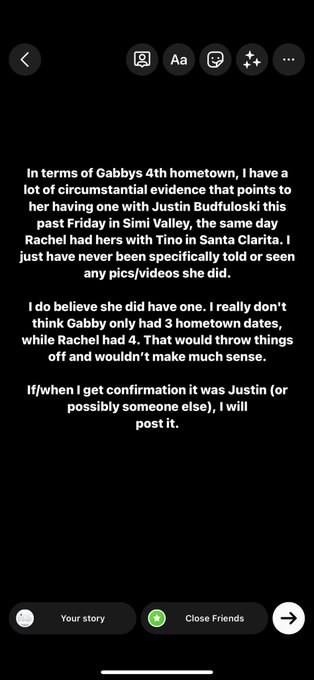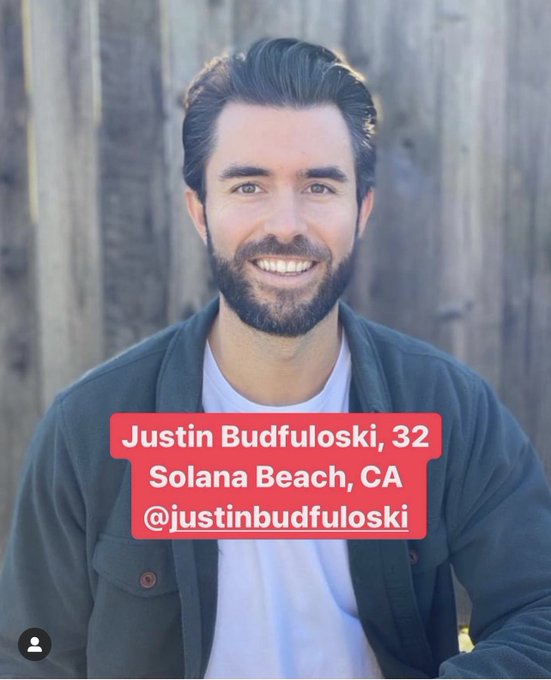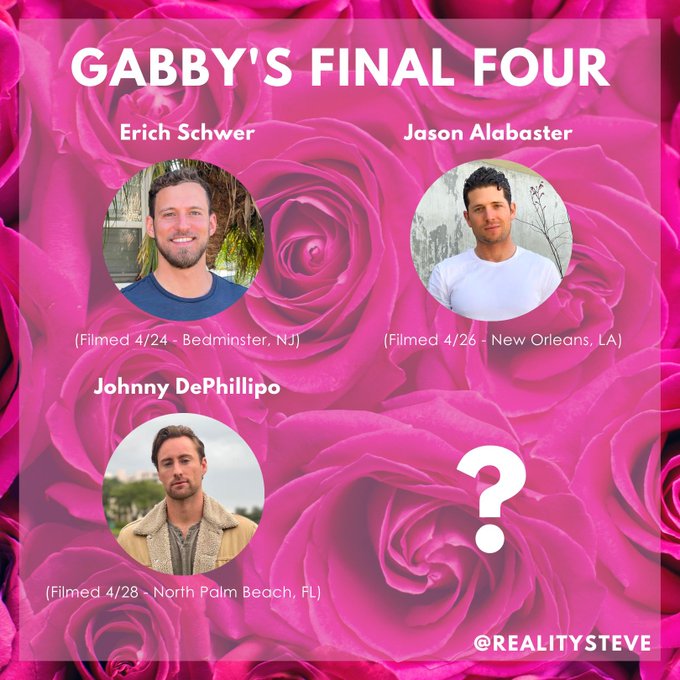 Rachels Final Four: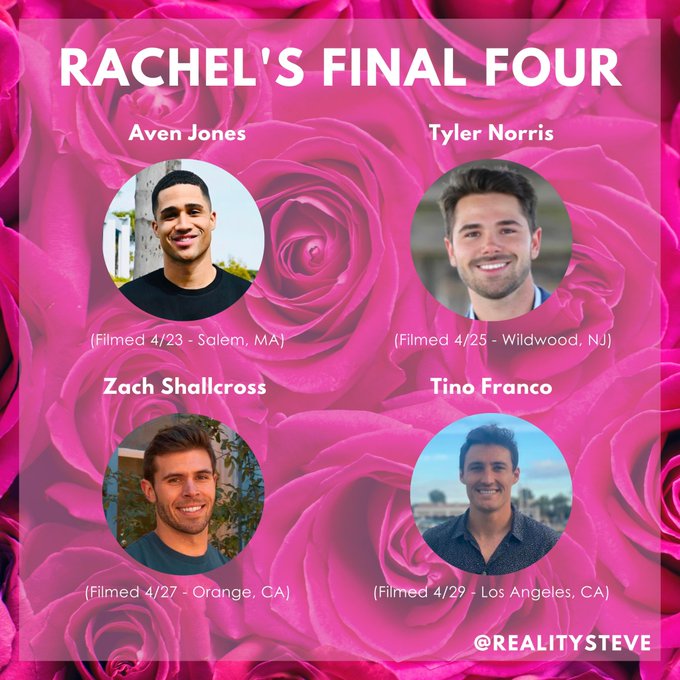 UPDATES APPEAR IN THE TWITTER FEED.
Pictures featuring Rachel and Tyler
Many more tweets from the guru – scroll through them as needed.
BIP and Temptation Island is thrown in for free…
More earlier Media
GABBY!!!!!! RACHEL!!!!!!! MY GOODNESS!!!!!!!
#TheBachelorette pic.twitter.com/d2vwNWd4wq

— Bachelor Bob (@BachelorBob_) March 27, 2022
Two female leads were announced a short time ago
Airdate July 11, 2022!
we now know the ones that never made the final cast were:

Corbin Shaw
Koy Schneiter
Nick Gill

Reality Steve
Latest spoiler(s) direct feed link
So the first 20 minutes of today's podcast I talk about the correction of Connor being on the season, debunk the gossip that's out there about the show, tell you what the format is going to be, and fill you in on where they're headed this season before hometowns.

-Gossip that each girl would get her own season within a season. Wrong.
-Gossip that there wouldn't be a first night rose ceremony. Wrong.
-Gossip that there would be 4 hometown dates total and each girl would get two. Wrong.

Connor is not on this season. That information I was given was wrong.

…every guy in the house, as of now, has the ability to date both women and vice versa.

…there was a first night rose ceremony.

…I don't believe 7 or 8 were cut on the first night per usual.

…while they're still in LA has been: 2 group dates and one 1-on-1 before travel. Then once travel started, the lead would get two 1-on-1s and a group date…now that we have two leads.

For episodes 2 and 3 in LA, which are the first dates of the season since episode 1 is night 1 with the limo entrances and the rose ceremony, it's one group date, then each woman gets a 1-on-1. Group date was Monday, it rained heavily in LA so I believe whatever they had planned was moved inside. Rachel's 1-on-1 was Tuesday, Gabby's was yesterday, and rose ceremony #2 is tonight. I don't know who was on those dates yet.

Then tomorrow will be another group date with both women, a 1-on-1 Saturday, a 1-on-1 Sunday, rose ceremony #3 on Monday, then they leave for Europe on Tuesday.

…one of the places they were heading this season and that was France. After they leave LA, they will fly to UK Portsmouth and board the Virgin Voyage cruise, and that will be their transportation and lodging while in Europe.

…they will dock at Le Havre, France.

…will be episode 4. From France,.. to Bruges, Belgium for episode 5, …on to Amsterdam for episode 6. So the dates will still happen in those countries, they're just not staying in hotels… Cast and crew are all staying on the cruise… interesting and definitely something different they've never done.

There will only be those 6 locations (3 eps in LA, 3 in Europe) before hometowns. When hometowns happen, they will be going to a split crew. Hometowns will be last week of April going by the calendar. I don't know how many there will be for each, but on a normal season with one lead, hometowns are filmed like this:

Hometown, day off, Hometown, day off, Hometown, day off, Hometown, rose ceremony.

For Gabby and Rachel, however many hometowns each get, it will still be filmed the same way, but each of them will be filming hometowns on the same day, obviously in different cities with a split crew unless they have one guy they both want in their final 3/4. So lets say April 24th is a Hometown filming day (just doing the math, it should be somewhere around that time), Gabby will be filming hers somewhere and Rachel will be filming hers somewhere else on the same day. It will either be 3 or 4 hometowns for each…But this gossip they were only getting two each is definitely wrong.

I don't know where overnights and final rose ceremony are being filmed yet… that's the format and every place they'll be traveling to up through hometowns.

Reality Steve